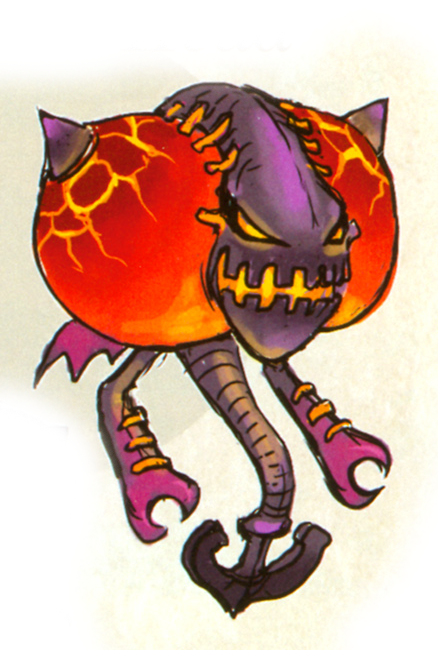 The cackling little worm beast turns towards you, it's arms full of explosives and it's eyes gleaming with madness.
Bombster Professor 1 CR: 1/2;
EXP: 200

CE Small Humanoid (Demon)

Init + 1 Senses Perception + 0, [darvision]

Defense
AC 17, Touch 12, Flat-footed 16 (+1 Size, +1 Dexterity, +4 Chain shirt,  +1 Natural armor) hp 11 (1d8+3) Fort + 5 Ref + 1 Will + 2 Defensive Abilities DR 5/ Bludgeoning Offense
Speed 20 ft
Ranged Bomb +2 (1d6+1 DC:12) 4/day Special Attacks Bomb 1d6
Professor Extracts Prepared (if applicable)
1: 1 Professor Extracts Known Longshot, Shield, Truestrike Statistics
Str 12 Dex 13 Con 16 Int 13 Wis 10 Cha 8 Base Atk + 0; CMB + 0; CMD 11 Feats Extra Bombs Skills Disable Device +5, Heal +4, Martial Knowledge (Crossbows/Firearms Heavy) +5, Use Computer +5, Drive +5, Slight of hand +5, Use Magic Device +3 Languages English, Japanese, Goblin Gear Chain Shirt
Volatile body (Ex): Bombsters add the Explosive nature and Self Destruct evilities of the Prinny and the
Powered suit to their list of evilities.
Better built bombs (Su): Any explosion caused by a Bombster is increased by 5 feet in radius.
Bombsters are explosive, worm like creatures. They are said to have Nitroglycerine for blood and gunpowder for brains. They love any sort of gun, or anything that makes a loud noise really. Some Bombsters detonate when they die as a suicide explosion is the most honorable death for their kind.
Bombsters as Characters Edit
+2 CON, +2 Dex,  -2 INT
Humanoid (Demon)
Small sized
Bombster base land speed is 20 feet.
Low Light vision
+2 racial bonus to Intimidate, Survival and acrobatics.
Automatic Languages: English and Japanese. Bonus Languages: Any (Unless specifically noted)
Automatically comes with weapon proficiency in any one gun of your choice.
Damage Reduction 5/ bludgeoning
Volatile body (Ex): Bombsters add the Explosive nature and Self Destruct evilities of the Prinny and the Powered suit to their list of evilities.
Better built bombs (Su): Any explosion caused by a Bombster is increased by 5 feet in radius.
+1 Natural Armor
Proficient in Gatling gun, Flamethrower, Bazooka, and Bomb