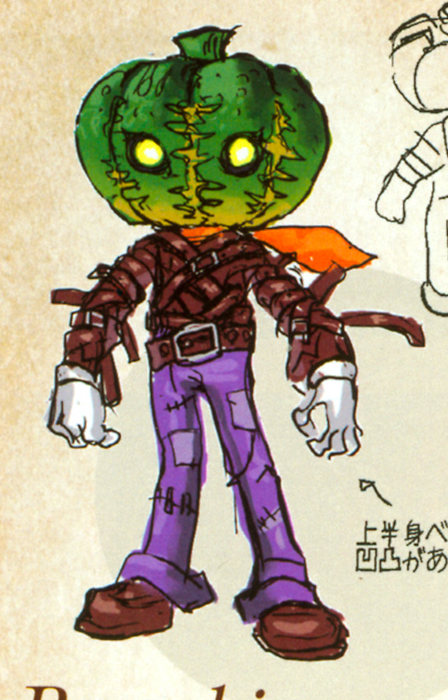 The large vegetable headed figure lands before you, scarf blowing in the wind as it raises it's bloody dagger.
Pump Kin Ninja 1 CR: 1/2; EXP: 200 CN Medium Humanoid (Plant, Demon) Init + 2 Senses Perception + 5, [darvision] Defense
AC 14, touch 12, flat-footed 12 (+2 Dex, +2 Leather Armor) hp 8 (1d8) Fort + 0 Ref + 4 Will + 1 Defensive abilities Immune to poison and disease, Fire Weakness Offense
Speed 40 ft Melee Knife +0 (1d4+0 19-20 x2) Ranged Knife +2 (1d4+0 19-20 x2) Special Attacks Sneak Attack +1d6 Statistics
Str 10 Dex 15 Con 10 Int 10 Wis 13 Cha 14 Base Atk + 0; CMB + 0; CMD 12 Feats Pumpking Skills Stealth +14, Slight of Hand +10, Martial Knowledge (Blades Light) +4, Perception +5, Bluff +6, Escape Artist +6, Knowledge Local +4, Disable Device +6 Languages English or Japanese Gear Throwing Knife, 1 dose Black Adder Venom, Leather Armor
Photosynthesis Regains 1d6 HP per hour while in the sun, and does not need to eat so long as they are in sunlight.
The Pump Kin are a very noble and proud race of secretive Pumpkin people that live beneath pumpkin patches. They are usually silent, though they can all speak, wishing to talk with their actions rather than with their words.
Pump Kin as Characters Edit
+2 DEX, +2 CON, -2 STR
Humanoid (Plant, Demon)
Medium: As Medium creatures, Pumpkins have no special bonuses or penalties due to their size.
Pumpkin base land speed is 40 feet.
Darkvision out to 60 feet.
+4 to Stealth, and slight of hand.
Automatic Languages: English and Japanese. Bonus Languages: Any (Unless specifically noted)
Photosynthesis (ex): Regains 1d6 HP per hour while in the sun, and does not need to eat so long as they are in sunlight.
Fire Weakness (Ex) Takes 50% more damage from fire.
Hearty Form: Immune to Poison and Disease
Proficient in Dagger, Rifle, Flamethrower, and Wrench.
Ad blocker interference detected!
Wikia is a free-to-use site that makes money from advertising. We have a modified experience for viewers using ad blockers

Wikia is not accessible if you've made further modifications. Remove the custom ad blocker rule(s) and the page will load as expected.