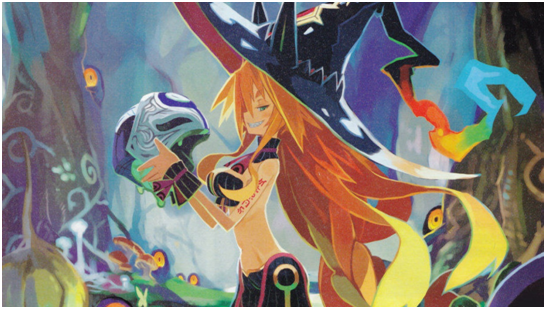 Some gain power through study, some through devotion, others through blood, but the witch gains power from her communion with the world around her. Generally feared and misunderstood, the witch draws her magic from a pact made with an otherworldly power found in a specific biome of nature. Communing with that source, using her familiar as a conduit, the witch gains not only a host of spells, but a number of strange abilities known as hexes. As a witch grows in power, she might learn about the source of her magic, but some remain blissfully unaware.
Role: While many witches are recluses, living on the edge of civilization, some live within society, openly or in hiding. The blend of witches' spells makes them adept at filling a number of different roles, from seer to healer, and their hexes grant them a number of abilities that are useful in a fight. Some witches travel about, seeking greater knowledge and better understanding of the mysterious powers that guide them.
Alignment: Any.
Hit Die: d6.
Starting Wealth: 3d6 × 10 hl (average 105 hl.) In addition, each character begins play with an outfit worth 10 hl or less.
Class Skills
The witch's class skills are Craft (Int), Fly (Dex), Heal (Wis), Intimidate (Cha), Knowledge (Arcana) (Int), Knowledge (History) (Int), Knowledge (Nature) (Int), Knowledge (Planes) (Int), Martial Knowledge (Makai Book)(Int), Martial Knowledge (Staff)(Int), Profession (Wis), Spellcraft (Int), and Use Magic Device (Cha).
Skill Ranks per Level: 2 + Int modifier.
Table: Witch
Level

Base Attack Bonus

Fort Save

Ref Save

Will Save

Special

Spells per Day

Techniques Readied

0th

1st

2nd

3rd

4th

5th

6th

7th

8th

9th

1st

+0

+0

+0

+2

Cantrips, hex, Witch's Dominion, witch's familiar

3

1

—

—

—

—

—

—

—

—

1

2nd

+1

+0

+0

+3

4

2

—

—

—

—

—

—

—

—

1

3rd

+1

+1

+1

+3

4

2

1

—

—

—

—

—

—

—

1

4th

+2

+1

+1

+4

4

3

2

—

—

—

—

—

—

—

1

5th

+2

+1

+1

+4

4

3

2

1

—

—

—

—

—

—

2

6th

+3

+2

+2

+5

4

3

3

2

—

—

—

—

—

—

2

7th

+3

+2

+2

+5

4

4

3

2

1

—

—

—

—

—

2

8th

+4

+2

+2

+6

4

4

3

3

2

—

—

—

—

—

3

9th

+4

+3

+3

+6

4

4

4

3

2

1

—

—

—

—

3

10th

+5

+3

+3

+7

4

4

4

3

3

2

—

—

—

—

3

11th

+5

+3

+3

+7

4

4

4

4

3

2

1

—

—

—

3

12th

+6/+1

+4

+4

+8

4

4

4

4

3

3

2

—

—

—

4

13th

+6/+1

+4

+4

+8

4

4

4

4

4

3

2

1

—

—

4

14th

+7/+2

+4

+4

+9

4

4

4

4

4

3

3

2

—

—

4

15th

+7/+2

+5

+5

+9

4

4

4

4

4

4

3

2

1

—

5

16th

+8/+3

+5

+5

+10

4

4

4

4

4

4

3

3

2

—

5

17th

+8/+3

+5

+5

+10

4

4

4

4

4

4

4

3

2

1

5

18th

+9/+4

+6

+6

+11

4

4

4

4

4

4

4

3

3

2

6

19th

+9/+4

+6

+6

+11

4

4

4

4

4

4

4

4

3

3

6

20th

+10/+5

+6

+6

+12

4

4

4

4

4

4

4

4

4

4

6
Class Features
The following are the class features of the witch.
Evility Witches possess the Evility Magic bundle at first level, and use the Wizard's list of evilities.
Magic Bundle The saving throws for all of your spells increase by +1
Weapon and Armor Proficiency Witches are proficient with all simple weapons and the Makai Book. They are not proficient with any type of armor or shield. Armor interferes with a witch's gestures, which can cause her spells with somatic components to fail.
Spells A witch casts arcane spells drawn from the witch spell list. A witch must choose and prepare her spells ahead of time.
To learn or cast a spell, a witch must have an Intelligence score equal to at least 10 + the spell level. The Difficulty Class for a saving throw against a witch's spell is 10 + the spell level + the witch's Intelligence modifier.
A witch can cast only a certain number of spells of each spell level per day. Her base daily spell allotment is given on Table: Witch. In addition, she receives bonus spells per day if she has a high Intelligence score (see Table: Ability Modifiers and Bonus Spells).
A witch may know any number of spells. She must choose and prepare her spells ahead of time by getting 8 hours of sleep and spending 1 hour communing with her familiar. While communing, the witch decides which spells to prepare.
Cantrips Witches can prepare a number of cantrips, or 0-level spells, each day, as noted on Table: Witch under "Spells per Day." These spells are cast like any other spell, but they are not expended when cast and may be used again. Cantrips prepared using other spell slots, due to metamagic feats for example, are expended normally.
Hex
Witches learn a number of magic tricks, called hexes, that grant them powers or weaken foes. At 1st level, a witch gains one hex of her choice. She gains an additional hex at 2nd level and for every 2 levels attained after 2nd level, as noted on Table: Witch. A witch cannot select an individual hex more than once.
Unless otherwise noted, using a hex is a standard action that does not provoke an attack of opportunity. The save to resist a hex is equal to 10 + 1/2 the witch's level + the witch's Intelligence modifier.
Hexes •    Aura of Purity (Su) •    Beast of Ill-Omen (Su) •    Blight (Su) •    Cackle (Su) •    Cauldron* (Ex) •    Charm (Su) •    Child-Scent (Ex) •    Coven (Ex) •    Cursed Wound (Su) •    Discord (Su) •    Disguise* (Su) •    Evil Eye* (Su) •    Feral Speech (Su) •    Flight* (Su) •    Fortune (Su) •    Healing* (Su) •    Misfortune (Su) •    Nails (Ex) •    Peacebond (Su) •    Poison Steep (Sp) •    Prehensile Hair (Su) •    Scar (Su) •    Slumber (Su) •    Tongues (Su) •    Unnerve Beasts (Su) •    Ward (Su) •    Water Lung (Su) •    
Energy Burst (Su): You have learned to channel your arcane energies into a blast of raw magic energy to use against your foes. You gain an energy blast useable a number of times per day equal to 3+Intelligence modifier. This deals 1d6 damage and requires a ranged touch attack out to 60 feet. This damage increases by +1d6 damage every time this hex is selected (To a maximum of 10d6).
•    Witch Trap (Su): You have learned a dark art, allowing you to craft powerful traps that you can use to destroy your enemies. Upon selecting this hex you learn to craft a single type of trap. To create a Witch Trap, you must sacrifice a spell slot and perform a 10 minute ritual, spending 250 hl per spell level spent. This witch trap then becomes a single use magic item. The following traps, their durations, and the damage dealt are located below. The save DC of each one is dependant on the spell slot sacrificed.

o    Bomb Trap: 1d8 +2 damage per spell level (Max 9d8+18)

o    Stunning Trap: 1d4 rounds
o    Sleep Trap: 1d6 rounds
o    Poison Trap: 1d4 Strength Damage; 1/round for 5 rounds; Two saves ends the effect

o    Heal Trap: Heal 2d8 +2 per spell level (Max 2d8+18)

To craft each trap, you must expend a spell slot and 250 hl per level of the spell slot. The Trap lasts forever in the shape of a small gem and can be thrown out to 30 feet. 
When the trap lands it is hidden, and a creature must make a perception check vs. your craft (Trapsmithing) check to spot it. Creatures with arcane sight, true seeing, and  other similar effects can see the trap normally. Any creature coming within 5 feet of the trap must make a Will saving throw DC: 10+Level of spell slot sacrificed+ Intelligence  modifier or be effected by it. This effects all creatures within 5 feet of the trap when it goes off.
•    Deliver Touch Spells (Su): The familiar can deliver touch spells or hexes for a Witch. If the witch and the familiar are in contact at the time the witch casts a touch  spell, she can designate her familiar as the "toucher." The familiar can then deliver the touch spell just as the witch would. As usual, if the witch casts another spell before   the touch is delivered, the touch spell dissipates. If the witch activates a hex, her familiar can be used to make the touch. She does not have to be in contact with the  familiar to use this ability.
•    Untouched by the Seasons (Su): By touching a creature, you can grant it the benefits of endure elements, which last for 1 hour per Witch level. You can use this ability a number of times per day equal to 3 + your Intelligence modifier.
•    Dominion Stride (Ex): A witch may move through any sort of undergrowth or rough terrain) at her normal speed and without taking damage or suffering any other impairment. Thorns, briars, and overgrown areas that have been magically manipulated to impede motion, however, still affect her. This can be used so long as you are within your dominion.
•    Avoid the weak (Su): While within her domain, the witch can ignore a number of squares equal to her intelligence modifiers in spell burst effects, thus not effecting the areas selected with the spell she casts.
•    Dominion Power (Su): While within her dominion, the witch gains a +1 bonus to her spell save DC's. At 12th level, the witch also gains a bonus to damage with the spells equal to the spell's level.
•    Poison Use (Ex): The witch can apply poisons without the possibility of becoming poisoned herself.
•    Dominion walker (Ex): A forest witch suffers no penalty to speed or on Acrobatics or Stealth checks in their dominion.
The hexes not described here can be found here [1].
NOTE: Some hexes have been altered to fit the new Witch class. As such Swamp Hag and Swamp's Grasp can only be selected by witches if it is in their list of dominion hexes.
Dominion At 1st level, when a witch gains her familiar, she must also select a Dominion. This Dominion is a powerful location that is also keyed to a specific kind of power or magic, that the Witch draws her power from. Below are listed the powers and the sort of locations each one pertains to.
Witches' Dominions
Thin Ice (ice, glaciers, snow, and tundra)
Dust (Deserts and wastelands)
Flowers (Grassy planes, Forests, and Jungles so long as there are flower fields nearby)
Forests (Forests of any type)
Scum (Urban, Swamps, and Wastelands)
Pumpkin (Grassy planes, Forests, and Jungles so long as there are pumpkins nearby)
Flame (Deserts and Wastelands)
Swamp (Swamps)
Tar (Urban, Swamps, and Wastelands)
Fog (Sea, ocean, ice, glaciers, snow, and tundra)
Sun (Anywhere illuminated by light, during the day, in a spotlight, ect...)
Darkspace (Anywhere steeped in darkness, at night, in dark caves, ect...)
At 2nd level, and every two levels thereafter, a witch's dominion adds new spells to a witch's list of spells known. These spells are also automatically added to the list of spells stored by the familiar. The spells gained depend upon the dominion chosen. Each Dominion is listed by its environment type. In addition, Each Dominion offers unique Hexes, Major Hexes, and Grand Hexes that only witches of that dominion can select.
See a complete list of Witch Dominions here.
Witch's Familiar (Ex)
At 1st level, a witch can choose to form a close bond with a familiar or with a party member. A familiar is a creature that teaches her magic and helps to guide her along her path, and the party member works almost like a bodyguard. These aid a witch by granting her skill bonuses, additional spells, and help with some types of magic. If selecting a familiar, this functions like the animal companion class feature, except as noted in the Witch's Familiar section.
A Witch's familiar can be selected from the following creatures, of which the Drope and Nobinya are Outsiders with the Demon, Witch Soldier, and Monster subtypes, the Corigon is a Fey with the Demon and Monster Subtype, and the Stuffed Doll is an Outsider with the Construct, Demon, and Monster Subtypes.
A witch must commune with her familiar each day to prepare her spells. Familiars store all of the spells that a witch knows, and a witch cannot prepare a spell that is not stored by her familiar. A witch's familiar begins play storing all of the 0-level witch spells plus three 1st level spells of the witch's choice. The witch also selects a number of additional 1st-level spells equal to her Intelligence modifier to store in her familiar. At each new witch level, she adds two new spells of any spell level or levels that she can cast (based on her new witch level) to her familiar. A witch can also add additional spells to her familiar through a special ritual.
A Witch's familiar begins with no evilities, but gains mana normally and can select and purchase them just as anyone else could. It also possesses 3 evility slots as a monster type.
If the witch selects a party member, that party member must be willing and ready to follow the Witches' every command. If Unwilling, the creature must be effected by dominate person or another similar spell before it can be granted these powers. If it ever disobeys the witch, it takes a -4 penalty to all d20 rolls for 24 hours. A witch can also use this on a creature that has been summoned and bound to the plane. The creature can never be of more hit dice than the witch. The creature granted with these abilities gains a number of temporary hit points equal to the witch's level, and it gains a +2 bonus to attack and damage against any creature that has harmed the witch within an encounter. A creature can only be the familiar of a single witch at a time. The familiar loses these abilities if it is further than 100 feet from the witch, unless it is in the dominion of the witch, whereas the distance is limited only to the plane.
Major Hex Starting at 10th level, and every two levels thereafter, a witch can choose one of the following major hexes whenever she could select a new hex.
Major Hexes •    Agony (Su) •    Animal Skin (Su) •    Beast Eye (Su) •    Cook People (Su) •    Delicious Fright (Su) •    Hag's Eye (Su) •    Hidden Home (Sp) •    Hoarfrost (Su) •    Ice Tomb (Su) •    Infected Wounds (Su) •    Major Healing (Su) •    Nightmares (Su) •    Pariah (Su) •    Retribution (Su) •    Speak in Dreams (Sp) •    Vision (Su) •    Waxen Image (Su) •    Weather Control (Su) •    Witch's Bounty (Su) •    Witch's Charge (Su) •    Witch's Brew (Ex)
•    Improved Witch Trap (Su): Your Witch Traps are better than other Witch's traps. You can select this multiple times, applying each effect to all of the witch traps you can craft every time you select it.

o    Blast Range: Increase range by 5 feet.

o    Improved Damage: Deal +2d8 on bomb or healing Witch traps.

o    Stronger Traps: Increase the save DC by +2.

o    Duration Traps: Increase the Duration on Poison, Stunning, and Sleep traps by +2

o    Virulent Poison: Increase the poison damage dealt by +2.
o    Combination Trap: Combine 2 kinds of trap into one, allowing both of their effects to go off simultaneously. This costs the same as 2 traps but allows for only one saving throw.
•    Third Eye (Su): You have harnessed the power to open your third eye and look off into the vast expanse of the world. This works as a Scrying spell, and you can use it for 1 minute per witch level. Not all minutes must be consecutive, and activating it is a only a standard action.
•    Spell Book: A Witch can purchase a spell book and use it in a way similar to a wizard. A Witch can scribe a number of spell levels into this book equal to her intelligence modifier. Scribing the spells takes the same amount of time as it would for a wizard and the spell must be on the Witch's spell list. The Witch can cast the spell so long as she has the book. If she wishes to, she can erase the spell and scribe a new one, taking it's place in the book and taking the same amount of time to scribe it.
•    Poison immunity (Ex): The witch becomes immune to poison.
•    Negation (Su): While within her dominion, the Witch is treated as having Evasion.
•    Knowing Eye (Su): While within her dominion, the Witch gains Blindsight out to 60 feet. At 16th level this becomes 120 feet.
Grand Hex Starting at 18th level, and every two levels thereafter, a witch can choose one of the following grand hexes whenever she could select a new hex.
Grand Hexes •    Abominate (Sp) •    Curse of Nonviolence (Su) •    Death Curse (Su) •    Dire Prophecy (Su) •    Eternal Slumber (Su) •    Forced Reincarnation (Su) •    Lay to Rest (Sp) •    Life Giver (Su) •    Natural Disaster (Su) •    Summon Spirit (Sp) •    Witch's Hut (Su)
•    Greater Third Eye (Su): This works as the Third Eye ability but it is Greater Scrying instead of Scrying. You must possess Third Eye before selecting this.

•    Forbidden Seal (Su): You have harnessed the power to place forbidden seals on a creature or place. This effect is similar to a bestow curse or a Major curse spell or a mark of justice and sometimes as an anti magic circle, and an inward protection vs. Allignment spell. This can be used to seal an area's power, a creature's power, or a creature into a specific place. This ability can be used once per day and it takes an hour ritual to accomplish. Once completed you gain one of the following effects.

o    Creature cannot use any of it's spells, supernatural abilities, or techniques and it is barred from leaving an area designated by you (Of up to 1 mile per level). This creature is placed in a stasis and must not eat, drink, or breathe  to survive, but otherwise is as normal. The creature cannot leave the area of effect.

o    An area of up to 10 feet per level is treated as an anti-magic zone. This cannot be dispelled by any other means than by destroying the seal.

o    A Creature is bound in place and put into a death like sleep. This works as both an anti-magic zone and an inward protection vs. allignment spell only on the creature and they cannot escape from it.
Regardless of the choice, a Creature gains a Will saving throw to negate the effects. It takes a -2 penalty for every time within a week it has had to make the saving throw and if already under the effects it takes an additional -2 for every instance it fails. A Creature that has recently been slain gains no save against this seal. To break the seal requires a Wish or Miracle spell of the same caster level as the Witch that used the Forbidden Seal.
A witch using a forbidden seal can also choose to instead cast a grand Witch seal. A witch can only have 1 grand witch seal active for every 6 levels they possess, and they cannot use the normal forbidden seal ability while they have even one grand witch seal active. The Grand witch seal can be attempted once a month. It's saving throw DC is the same as the normal forbidden seal +1 for every 4 levels the witch possesses. Any bonuses towards curse magic or sealing magic apply to this as well. If the enemy fails it's saving throw, you can determine what effects the seal has, however it is left to the DM's final descision. A grand witch seal could be incredibly powerful and maybe even game changing in some scenarios. Examples include, Making an entire country a dead magic zone, banishing an entire kingdom to hell, causing someone's entire family line to become infertile, Binding a God's power and tieing them to the mortal world, or stripping a creature of a mythic rank. If the witch seal should ever be broken, or the witch uses too many grand witch seals, the creature regains anything lost immediately.
REINCARNATION Edit
If Reincarnating into this class after having already been this class, or a class with similar abilities, check the following page to see what ability you'll get instead at the levels you would normally gain an already achieved class ability.
Ad blocker interference detected!
Wikia is a free-to-use site that makes money from advertising. We have a modified experience for viewers using ad blockers

Wikia is not accessible if you've made further modifications. Remove the custom ad blocker rule(s) and the page will load as expected.